GET RID OF ITCHING IN YOUR BODY & NOW LEVEL UP YOUR BATHING EXPERIENCE.
The Best Way To Reach Those Neglected Areas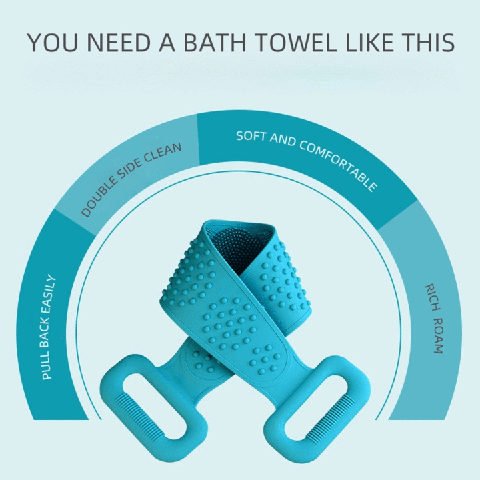 Those hard-to-reach places can sometimes be painful, and now we have the solution. Clean and scrub with this silicone towel now and keep it clean! Good cleaning effect. Cleans pores, removes dirt, excess sebum and dead skin, making your skin smoother.
MAIN FEATURES SCRUBTHESKIN™ BATH TOWEL
Ideal for All Types of Skins
Suitable for different people, children, elderly, men, women. For use on external parts of your body - arms, legs, chest, back, feet. Follow up with a rich lotion or cream. Keep your body healthy.
Improves Skin Texture
Made of food-grade silicone, healthy and environmentally friendly, free of BPA and no harmful substances. High-temperature resistance, safe and durable
Gentle and Clean
Extends 1cm dense brush head penetrates into pores to clean dirt and freshens, these exfoliating gloves for the body are gentle for everyday use and slough away dead skin cells
Perfect for Daily Use
Lengthened design, soft brush, massage the skin, great for those with sensitive skin! Body scrubber for the shower and exfoliating body brush for women and children.
Comfortable Double-side


Handle design, good toughness, strong tensile strength, can be suspended, saving space. It can be used for hand face feet body clean. Aids in healthy circulation with frequent use.
FEATURES
Functional Cleaning Towel Brush - 1cm brush head that quickly foams and penetrates into pores to clean dirt and exfoliates the body for smoother and fresher skin. 
Further Reach: No more Neglected areas. You can finally reach everywhere you struggled to before.
Eco-Friendly: Made from eco-friendly, durable, non-toxic, BPA-free, and FDA approved silicone that can effectively exfoliate and massage the skin, perfect for daily use. 

Ideal For All Body Types - Suitable for children, elderly, and both genders as well as most skin types. 
No Bacteria: Silicone wipes are dry, greatly reducing bacterial survival.

Double-Section: The double-sided lines with bump design can effectively bring you a cleaning effect. 
Double-Sided Handle - Designed with handles on each end for convenience and comfort while holding and using. 
Easy to clean and store - Simply wash with soap and water and use handles to suspend or hang on the wall to save space. 
 Package Include
1 x Silicone Bath Body Brush